all articles
/
all Football articles
Playing at Molineux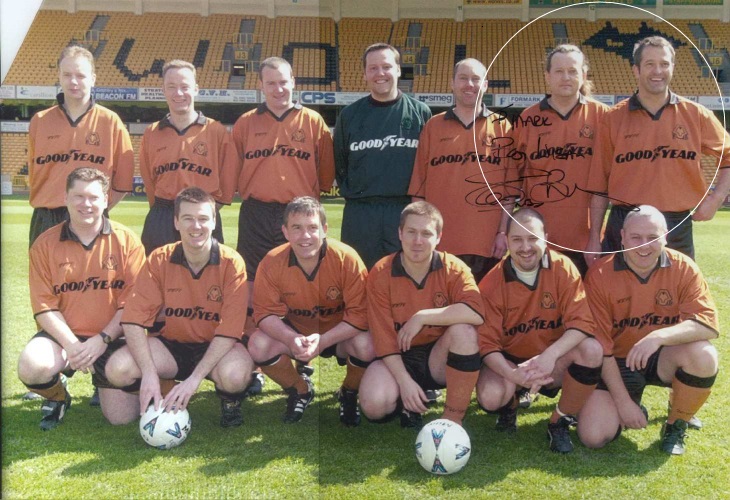 As an amateur, my best memory is of the day I played at Molineux in Steve Bulls team for Soccer Aid. They have 2 teams of fans, one playing in the home kit, and one in the away kit, against each other. Each team has an ex-pro captaining, and playing in it. The great Steve Bull, 306 goals, England international, had recently been forced to retire due to a knee injury, and was captaining the home team.
I was living in Australia at the time, but planning to return soon. The price of places in teams for Soccer Aid had been out of my range, but I discovered completely by accident, a flaw in their website bidding logic. If you put a bid on a position, they encouraged you to make a higher one, to secure winning it. I did as they suggested, but discovered if you did that, and then later changed your mind and cancelled your higher bid, it actually reverted back to the previous lower one. Hmm, whirring of cogs... So I cancelled everything and placed the lowest bid I could afford (still a reasonable amount) on a full 90 minute midfield position in the home team run by God himself, Steve Bull. I then placed a second ridiculously high bid on the same position. I sat and watched the bidding on all the other positions over the next couple of months, as they reached and passed the sort of money I could afford. I waited for the deadline, and with about 1 minute remaining, cancelled my higher bid. I expected others to be there and outbid me at the last minute, but no-one did. Woohoo, I won. I was going to play at Molineux.
I was back in England and couldn't wait for the day to come. I was like a child waiting for Christmas Day and Santa. I was out jogging and trying to get some form of fitness, but at that age, it's more about not getting injured, which was my main worry. I was paranoid I would get injured, or sick, and miss the day.
The day came and I remember arriving at Molineux and parking right outside the doors, where the players used to park. Walking in through the door and into reception, knowing I had come here to play was such a buzz. After that I was so excited I can't remember what happened. The next thing I recall was being in the home dressing room, with old gold and black kit hanging all around the room, and one with 'Worrall' on the back. I remember thinking omg, is this real?
The great man himself, Steve Bull was there, and told us all to get changed. There were guys who had come from all over the globe to play. There were 2 who had flown over from the USA just to play, and other from all over the UK. We were in the home teams dressing room putting on the black shorts, and old gold socks of Wolves. Everyone was in a stunned silence, nervously looking at each other, all thinking the same, is this really happening? Am I going to hear the buzz of my alarm clock and wake up in a minute? Putting on your boots makes it really sink in you are here to actually play on the pitch. We pull on our shirts and wonder what to do next. Someone comes in and gives us a run down of how things will go, followed by Bully who gives us a short pep talk about how he wants to win and gets us all revved up.
We are made to line up in the players tunnel, we are the home team in old gold and black, and the others are the away team, in Wolves away colours, light blue at that time. We have professional referring staff, a referee and 2 linesmen, and we line up behind them. What a buzz, it's like we see on tv. Imagine how it must be for professional players who do this every week?
We head out, and stop for some photos to be taken, and then onto the hallowed turf of Molineux. I've been on the pitch before, but when you are wearing boots and there to play, it feels completely different. We line up in front of the John Ireland for team photos. I didn't realise until I saw the photos weeks later that I was standing right next to Bully. How I managed that I have no idea. Acknowledging we weren't professional athletes, they took us all over to the far side, and put us through lots of stretching, jogging, and warms ups. Not a good advertisement if anyone went away seriously injured, but none of us would have cared.
Eventually we kicked off. I've played football all my life, it was the same sort of pitch I'd played on 100's of times, the same markings, but it just felt different. Was it bigger? It felt like it was. All the passes seemed to have to go further and players seemed further away. I eased into it slowly as I wanted to last the distance and not end up going off prematurely through exhaustion or getting injured. I looked around at all the empty seats and it dawned on me, on a match day they would all have people in them, all looking at the player with the ball, cheering if they did well, berating them if they didn't. It was like being in a goldfish bowl, whichever way you looked there would be a wall of people looking back, with nowhere to hide. Yikes.
We won a free kick, about 30 yards out, to the right of the penalty area. The previous 2 or 3 free kicks we had, others had fought over taking them, only to embarrassingly stuff them up. So I went to take this one without any resistance. I curled it above the heads of the defenders, but in an arc just behind them. It was the worst place to defend against, behind them they would have to turn and head back towards their own goal, and it was too far out for the goalie to come out and get. As it sailed along just behind them Bully took a couple of steps and rose into the air, it met his head, and he buried it in the back of the net. Goal! I couldn't believe it, I had made a goal for Steve Bull to score at Molineux, and in front of the South Bank. That was definitely the highlight for me.
It was over before I knew it as most of us reluctantly hobbled off. In the shower I turned around and Bully was in there as well, both starkers of course, and I saw he had big tattoos across his lower back 'Jack' and 'Joe', the names of his sons. We all got to keep our kit, and most of us got Bully and a few other players around to sign them. Afterwards we met up in the bar and had a drink before leaving.
We stopped at a pub in Tettenhall for some lunch and by then I could hardly walk. It would take me days before I could walk properly and weeks before I fully recovered. The following week in the Express and Star there was story headlined 'Bully back at Molineux and scoring', and had to grin having been part of it.
---